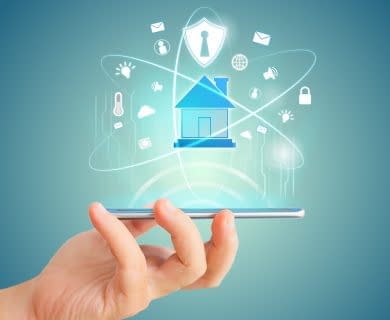 Decorating your new home is definitely more fun than setting up security measures. But burglars strike every twenty-one seconds, so home security should be a top priority.¹ To help you get back to the fun stuff, here are ten simple things you should do right away to secure your new home.
1. Secure the Doors
Don't help a burglar stroll in through the front door (34% of them do!).² Inspect all of your exterior doors to make sure the door frames are strong, the hinges are protected, and—if your door has a mail slot—that someone can't reach through it to unlock the door. Here are the quick reinforcements we recommend to help you shore up these vital entryways.
Install a deadbolt.

child locks

Upgrade to smart locks.

Boost security with a video doorbell.
2. Lock the Windows
Doors and windows are the most common entry points for burglars. Unfortunately, manufacturer latches on windows aren't always effective—and sometimes they're downright flimsy. If you don't like the looks of your window latches, beef up security with locks or key-operated levers. But you don't have to stop there. We have some other good ideas to help make your windows burglar-proof.
Reinforce glass with window security film.

Install window or glass break sensors.

Add window bars.

Plant prickly bushes under first-floor windows
3. Light Up the Landscape
Vandals, burglars, and other criminals don't like to be in the spotlight. Keep bad folks at bay with ample outdoor lighting. Place lights around your front and back yards, along pathways, and near the garage and other outdoor structures. Not only will you make intruders skittish, you'll also cut down your risk of a stumble on your way up the front steps. Make your outdoor security lights even more effective with these tips.
Use motion-activated lights.

Save energy with solar-powered lights.

Put outdoor lights on a timer.
5. Set Up a Security System
Your new home should have some form of a security system, whether it's a basic DIY system or one that comes with professional monitoring and home automation. Today there are plenty of home security options for every budget and every level of protection. To choose a system that you're comfortable with, evaluate the needs of your neighbourhood and your house. You can contact your local police department for neighborhood crime statistics and help doing a home security evaluation of your home. Also, keep these factors in mind as well:
DIY installation vs. professional installation

Customer service and brand reputation

Smart home capabilities
Upfront and monthly costs

Extras like smoke and carbon monoxide monitoring
6. Add Gas Leakage Detector –
Gas leaks can cause oxygen deficiencies and explosive atmospheres. In extreme cases, a lack of gas detection equipment could result in grievous injury or death.
gas detectors can be used to detect flammable, toxic, or combustible gases in your workplace before they have damaged your facilities or put your employees at risk. Gas detectors sense gases that humans cannot smell or see, and are an integral line of defense for any business.
In the event of a gas or chemical leak, detectors also allow you to contact any relevant emergency response teams in a timely fashion. They give you time to assess and evaluate a situation in which minutes can mean the difference between inconvenience and catastrophe.
IgnisAlert is an international developer and manufacturer of high-quality security and protection products and accessories, such as gas leakage detector, smart lock, Child safety locks, fire extinguisher, etc. We are dedicated to enhancing people's way of life by increasing their sense of security. To combine the idea of safety with health creatively is always our principle and goal. IgnisAlert provides high-quality security, healthy products and excellent solutions.