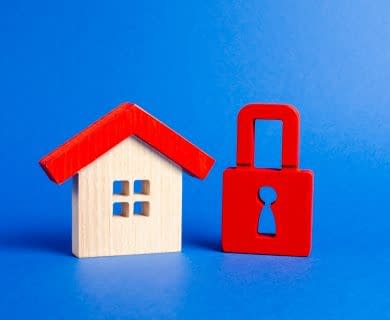 When someone we care about ages, it can be overwhelming. There are so many decisions that need to be made regarding health care, financial responsibilities, and independence, and this means some important matters – such as home security – can be overlooked. When it comes to making sure your senior loved one is safe, however, it helps to have an action plan that covers the basics. Here are some of the most effective ways to ensure that their residence is a secure and healthy environment for them to live out their best years.
1. Ensure Outside Security –
With so many scary news stories warning us of burglars and package pirates, it may not appear like anyone can be safe these days. The good news is that criminals tend to look for "soft" targets, and having a home that looks protected is more than half the battle of keeping bad guys away. Even if your loved one can't afford the most up-to-date security system, any visible deterrent will help. Adequate lighting near all of the entrances, as well as sturdy and modern-looking locks on all doors and windows, may be all that is needed to tell crooks to "keep walking."
You'll also want to put yourself in the situation of your loved one and see what it's like for them to greet guests. Do they have to open the door to see who is outside? Is it difficult to make out visitors from a safe distance? Will they need to choose between privacy and security? Ensure that their doors and windows allow for them to see what's going on without putting them at risk. If a doorbell is installed, ensure it works and that it can be heard from all areas of the home.
2. Foster Communication –
If something does go wrong, does your loved one know who to call? If so, is there an easy way to get a hold of help 24/7? With so many medical alert systems on the market today (and at reasonable prices), there is no reason for them to ever be alone in an emergency.
In addition, their traditional phone should be portable, or older corded devices should be placed where they can get to them quickly in all levels of the home. Family members' numbers can be placed into the speed dial setting for help with a button push. All devices should regularly be checked to ensure they function well and don't need batteries or components replaced.
3. Protect Against Smoke, Fire, and Poison –
We are usually very good at making sure our own homes are protected, but when is the last time you asked about the fire alarm installed in your loved one's residence? use Annual smoke, gas leakage detector and carbon monoxide detector checks are essential for any home, and many developer and manufacturer of high-quality security and protection products will be happy to perform these at no charge. Ask about radon tests, which are sometimes given out for free from city offices and county extension agencies. A small kitchen fire extinguisher should be placed in the home, as well.
While rare, food poisoning can be even more harmful to an older person, as they often have a weaker immune system. Regularly check for expired foods or recalled items, and keep a temperature monitor in the fridge and freezer to ensure they are keeping the temps required to combat bacteria and spoilage.
4. Prevent Falls
Falls are currently the number one cause of fatal and non-fatal injuries in our oldest populations, with one in four people over 65 falling each year. According to the National Council on Aging, the fear of falling can make it hard for our older loved ones to live happy and fulfilling lives – often leading to depression and further physical decline. Fortunately, falling doesn't have to be a normal part of aging, and many falls are completely preventable (with little cost and effort!)
Taking steps to prevent falls can be as simple as going through the home with your loved one and watching how they move. Do they avoid areas, tip-toe, scoot, or manoeuvrer in odd ways? They may have already formed habits to avoid falling, instead of taking action to fix the problem. This is your time to ask them about the "danger areas" they already know about while committing to making them safer.
Some common fall hazards in a home include:
Stairways in both the home and outside

Loose carpeting or misplaced rugs

Electrical and extension cords

Bath and shower surfaces

Toilet that is too high, not seated properly, loose, or broken

Wet floors from leaky fixtures or humidity

Clutter on floors, stairs, and furniture
Fall hazards can change. Keep an eye on new developments in the home, and look into devices that can alleviate some of the stress of near-falls, such as safety railings, anti-slip mats, and shower chairs.
5. Keep Finances Secure –
Older loved ones are more vulnerable to financial schemes and scams, which often center around technology that they may not be familiar with or resemble legitimate communications from their bank, health insurer, or the IRS. Take time to learn about new scams regularly, and discuss the red flags for each. Foster open communication so that your loved ones feels safe telling about near scams or even ones that they have fallen victim of. Reinforce the following rules regarding sensitive personal info:
Never give out your Social Security Number

Keep your Medicare card safe, including the new cards (which will be mailed out without SS numbers in the future)

Don't share bank account or credit card information over the phone
Above all, stress that nothing is so urgent that it can't wait for your loved one to take a message and consult a relative or professional for guidance. If someone insists that action must be taken immediately on a financial matter, it is more than likely a scam.
It can take some time to make the home as safe as possible, and that is OK. Big changes are made up of many, many small changes, and just doing a few things here and there will have positive effects for your loved one. If you have a family care plan, consider placing a to-to list of all of these items in the back, along with an action plan for who handles each. With some help, the safest place to live can be the same long-time home that your loved one already knows and cherishes.